250W Power Management Unit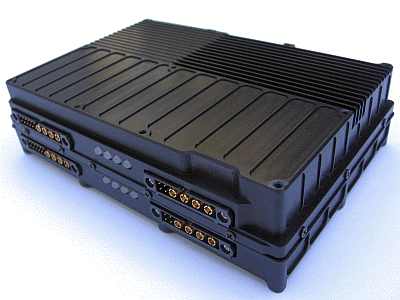 Millswood Engineering 250W PMU
The Millswood Engineering 250W PMU provides up to 250 Watts of on-board electrical power generation for small to medium-sized UAVs.
The 250W PMU simplifies UAV power distribution by providing multiple battery-backed power outputs which are individually user-programmable for voltage. Dual battery support with lossless switchover is included as standard.
The PMU connects to a suitable brushless DC electric motor, which is in turn driven by the aircraft's primary power plant, usually an internal combustion engine.
Features:
Multiple independent, individually programmable power outputs:

Avionics: 12 - 21 VDC, 7.5 Amps (120W max.)
Payload: 12 - 21 VDC, 7.5 Amps (120W max.)
Servo: 5 - 12 VDC, 10 Amps (120W max.)

Outputs are battery-backed and switchable (on/off) via hardware signal or remotely via command.
User-configurable automatic payload shedding on loss of electrical power generation.
Dual (redundant) battery support. The PMU includes two independent and identical battery chargers. Supported battery types include:

LiPo: 5S, 6S
LiS: 7S, 8S, 9S, 10S
LiFe: 5S, 6S, 7S

Bi-directional 28 VDC bus supports dual generator operation for twin-engined aircraft.
RS232 and CAN control and monitoring interface provides extensive monitoring and reporting of voltages, currents, battery charge status, temperature.
Buck-boost converter allows electrical power generation over 4:1 RPM range.
Weight: 290 grams (10.2 ounces).
Dimensions: 124.4 x 85.0 x 132.5mm.
Contact us for further technical information. See the Purchase page for where to buy.
Documentation
Software