6S Battery Cell Monitor & Balancer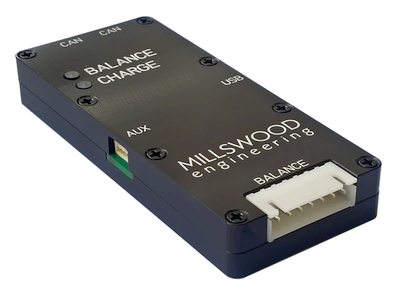 6S Battery Cell Monitor & Balancer
The 6S Battery Cell Monitor & Balancer is a precision instrument that ensures that multi-cell batteries are maintained in an optimal state, improving system reliability and prolonging battery life.
The 6S Battery Cell Monitor & Balancer does exactly as its name suggests: it monitors cells within a battery, and it balances those cells if and when they require it.
Features:
Transforms a "dumb" battery into a smart (self-balancing) battery.
Supports multiple battery chemistries - LiPo, LiS and LiFe.
Galvanically isolated CAN interface, allowing stacking (for series connected batteries).
Battery temperature monitoring with suitable external sensor.
User-friendly configuration software.
Rich variety of balancing control options.
Seamless integration with 250W PMU.
Weight: 45g (1.6oz).
Dimensions: 80.0 x 35.0 x 11.5mm
Purchasing:
Available now from Millswood Engineering.
Usage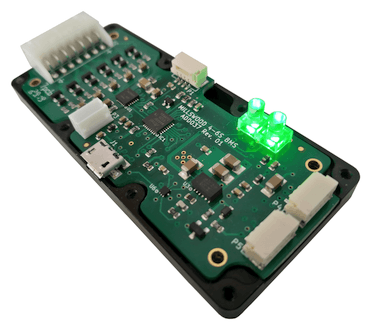 Inside the 6S Battery Balancer
The Battery Balancer plugs directly into the balance connector present on most Lithium-based batteries. In many cases, this is the only connection required. A pair of indicator lights on the front panel give a "go / no go" indication of the battery's state of balance and state of charge. More detailed battery information is available via the CAN bus.
The Battery Balancer can be used in two ways:
As a hand-held battery verification tool, or
Installed in a UAV, either with or without interfacing to the vehicle's CAN bus.
Installation into a UAV confers a number of operational advantages:
Batteries do not need to be removed periodically to check for balance.
Battery status is available instantly, either directly from the front-panel LEDs, or remotely from the telemetry data sent on the CAN bus.
Batteries are maintained in a state of balance, improving flight-readiness.
Product resources
Documentation:

Product brief: a short summary of the key features and specifications.
Product manual: detailed description of the Battery Balancer hardware - how to configure it, how to connect it up, electrical and mechanical specifications, LiPo reference data, etc.
CAN protocol: describes what values the Battery Balancer can measure and transmit, what commands it can receive, and how this data is formatted.

Software:

Configuration utility: a Windows app for configuring the Battery Balancer and checking that it is all working correctly.
More resources are available here.